The designer, television presenter, DJ, on tverku coach and organizer of the new joint retrofestivalya shooting elle.ua and Skechers for
Whatever you say, but the man in nature – being lazy. In an era when the HLS for the majority of urban residents – this is the norm, and the presence subscription for yoga or trainers do not even discussed, we still sometimes difficult to force myself to do sports. This may be due not only to laziness, but also cold, lack of time for preparation for the holidays, or just a lack of inspiration. It is for the people of the latter category (repent, and this includes a part edition of Elle Ukraine) we did shoot with the beautiful and energetic Ukrainian. Ex-brand designer Natalia Kamenskaya Lake, DJ Katra Sauber at tverku MAMASITA coach, organizer of urban retro holiday Cruise Marianne Fakas and TV host and creator of the jewelry brand Guzema Fine Jewelry Valery Guzema – these girls seem to manage it. And yet – do sports, and you are advised.
Valeria Guzema
The founder of the jewelry brand Guzema Fine Jewelry, fashion-journalist and TV presenter HDFashion Channel.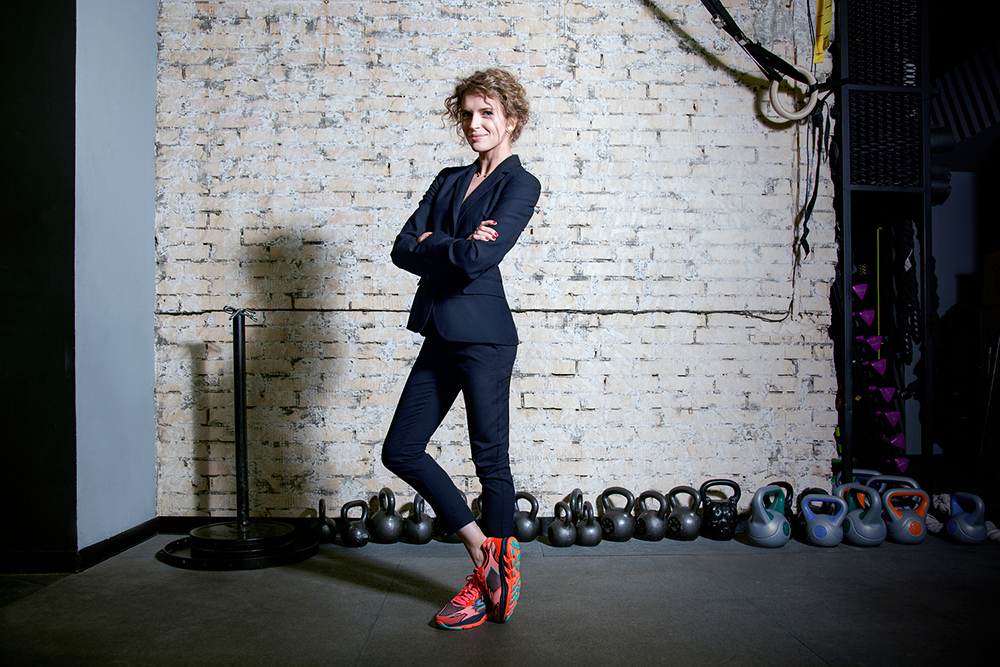 My Playlist for training:
Passenger – Let Her Go
Rihanna – Kiss It Better (Explicit)
Nekka – Heartbeat
DJ Snake, Lil Jon – Turn Down for What
MONATIK – Circling
Sia – The Greatest
Omi – Cheerleader
Pharrell Williams – Freedom
Calvin Harris ft. Rihanna – This Is What You Came For
Kygo ft. Conrad – Firestone
The Avener – To Let Myself Go ft. Ane Brun
Mahmut Orhan & Sena Sener – Feel
Stromae – Formidable
Son Lux – Easy
Gnash ft. Olivia O'Brien – I hate u, I love u.
About sports and physical activity:
I can not live a full life without sport. At some point, I'm tired of boring workouts in gyms, and I moved to the TRX. Also, I go to yoga, stretching and acrobatics.
About favorite sneakers:
Footwear for sport must first be comfortable. My  Skechers  are perfect for training in the hall, and to run on the street. In addition, the striking design looks always advantageous in combination with any outfit. When I do get tired of high heels, I wear Skechers even at social events. And they can be combined with a dress, and with a strong suit.
Marianne Fakas
Organizer of the festival "Retro Cruise"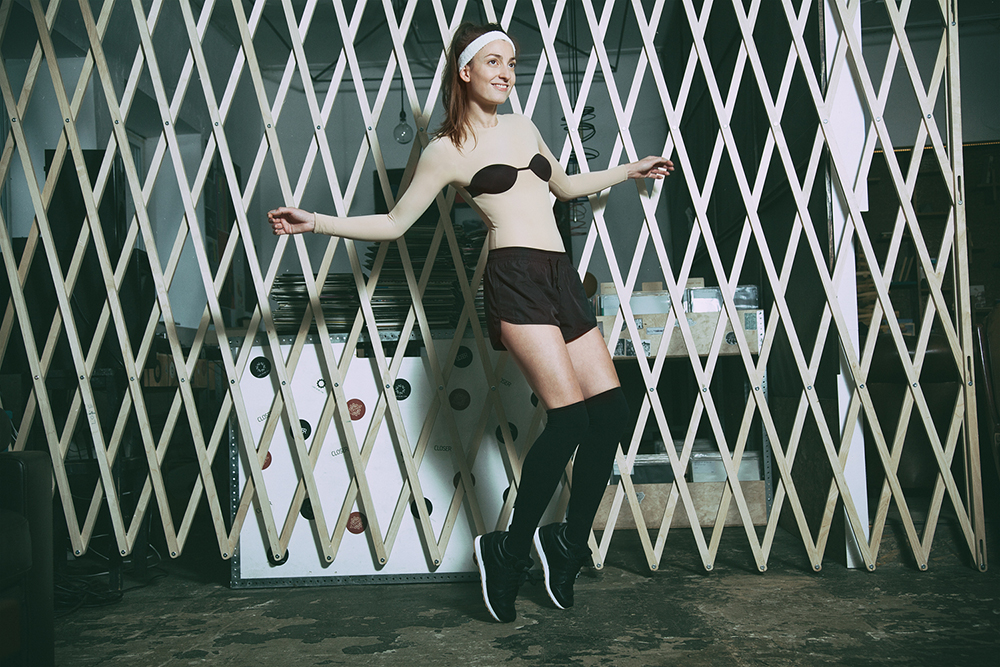 My Playlist for training:
Some music is needed in order to create the rhythm, and hence – will suit any oz, oz, oz, I need the music for the mood. Often difficult to shake himself on street workout, so this collection of favorite
About sports and physical activity:
My favorite sport – to drive a road bike around the city. But as in the Ukrainian cities, it is still not safe, do not disdain and street workout, both at home and in the halls.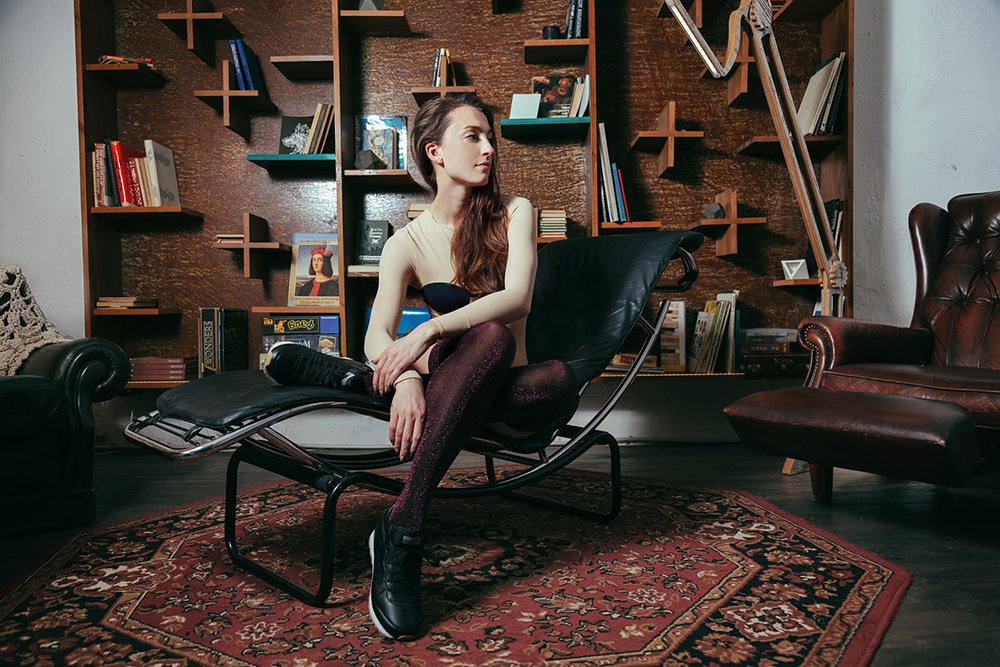 About favorite sneakers:
Ironically, my first shoe that I bought it for the sport, were Skechers . It's just a shoe, I like that they do not try to carry the more sense than you need, and at the same time at 100% perform their function.
Natalia Kamenskaya:
Designer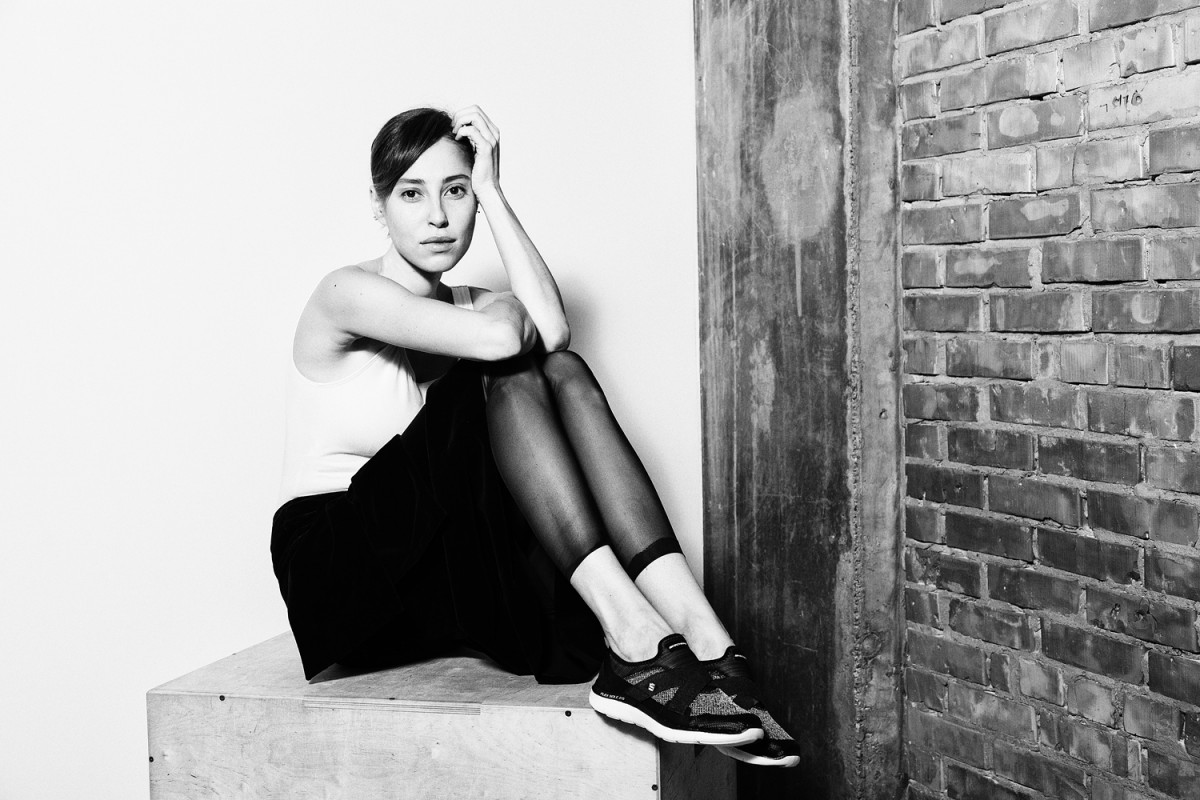 My Playlist for training:
David Bowie & Pet Shop Boys – Hello, spaceboy
Underworld – Born slippy
Prodigy – Voodoo people
Cinema – We want to dance
Beastie Boys – Sabotage
Bjork – Army of me
Dead man's ones – Lose your soul
Blur – Song 2
Joy Division – Love Will Tear Us Apart
childhood songs – my perfect motivator. KISS, AC / DC and Michael Jackson as no help to swing the press and the priest, and "How Deep Is Your Love" Bee Gees – ideal composition for a hitch after a workout.
About sports and physical activity:
As a child, I went to a sports school, until receipt engaged in athletics, profile – sports walking and jogging. Who is most to me are regular yoga classes, at least – running and TRX.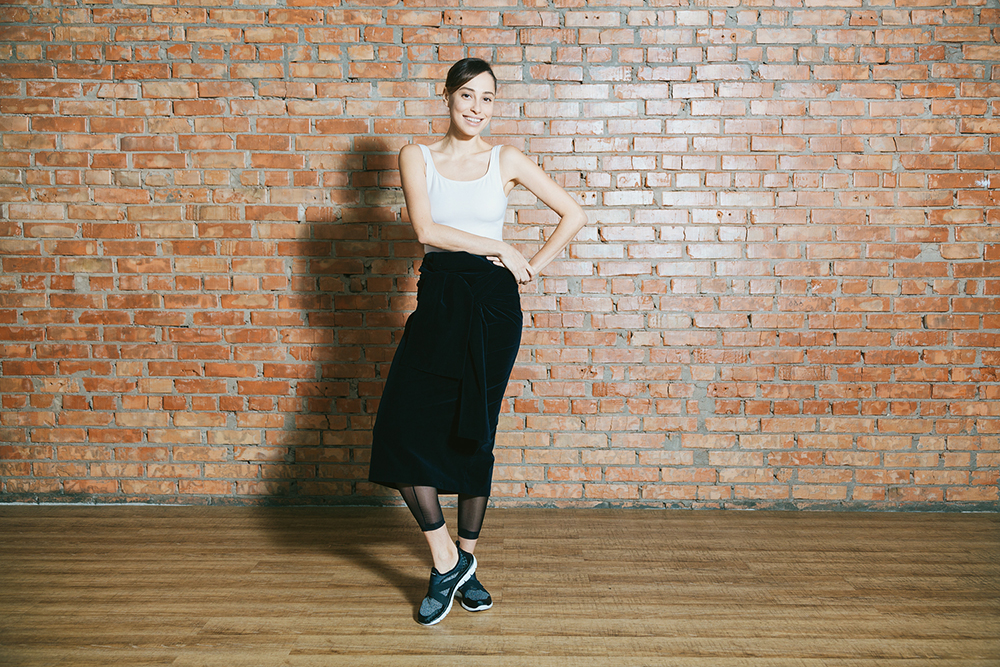 About favorite sneakers:
Trainers are selected by design: it is sleek and versatile at the same time it feels the breath of Asia loved me. It is easy to imagine them practicing Tai Chi. And they have one of the main components of sports shoes: they are incredibly comfortable, lightweight, hardly felt in the leg with superudobnoy insole and soft sole.
Katra Sauber
DJ and radio host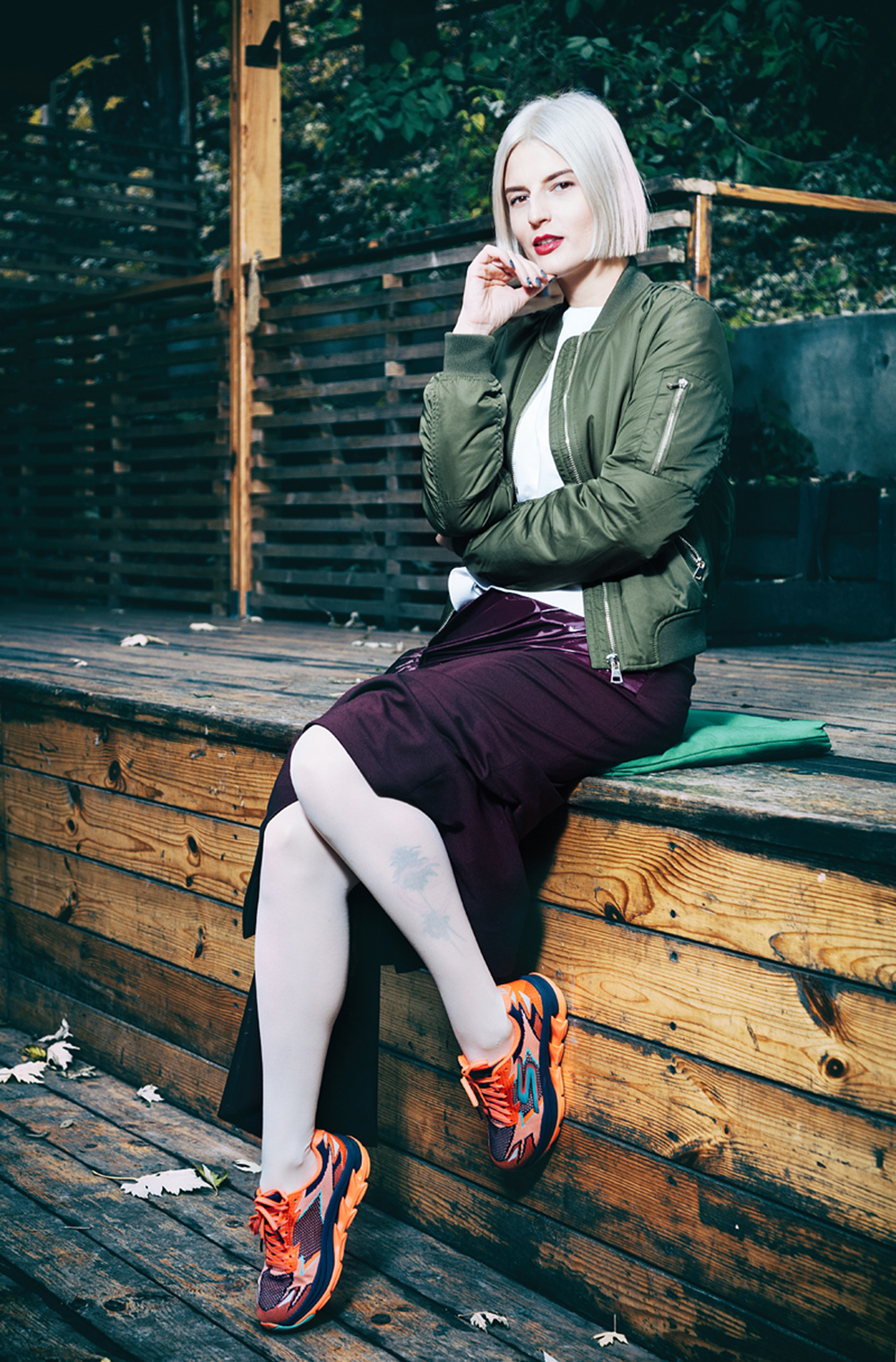 My Playlist for training:
Gorillaz – Feel good
Run DMC – Walk This Way
Beastie Boys – Fight For Your Right
Cypress Hill – I Wanna Get High
Monatіk – Circling
Mushrooms – Іntro
The Weeknd – I Can not Feel My Face
Ivan Dorn – Teleport
Dzhoї Purp – Girls
Lauryn Hill – Everything is Everything.
About sports and physical activity:
With sports attitude, I started 5-6 years ago. Prior to that, his childhood and youth passed without him. I can not even ride a bike. But over the years I realized that life without sport – not life. If we talk about regular classes, it is a daily charge of house – a set of exercises of sit-ups, swing press, push-ups and planks. As well as yoga, Pilates, stretching. The most classy and sophisticated surfing feel. It is pumping and the whole body and brain, and spirit. In the summer I went to the outdoor swimming pool learning to swim, and in autumn for the first time got up on the surf board. I want to start walking on the TRX, because of all funktsionalok consider it the best solution for a strong and beautiful body.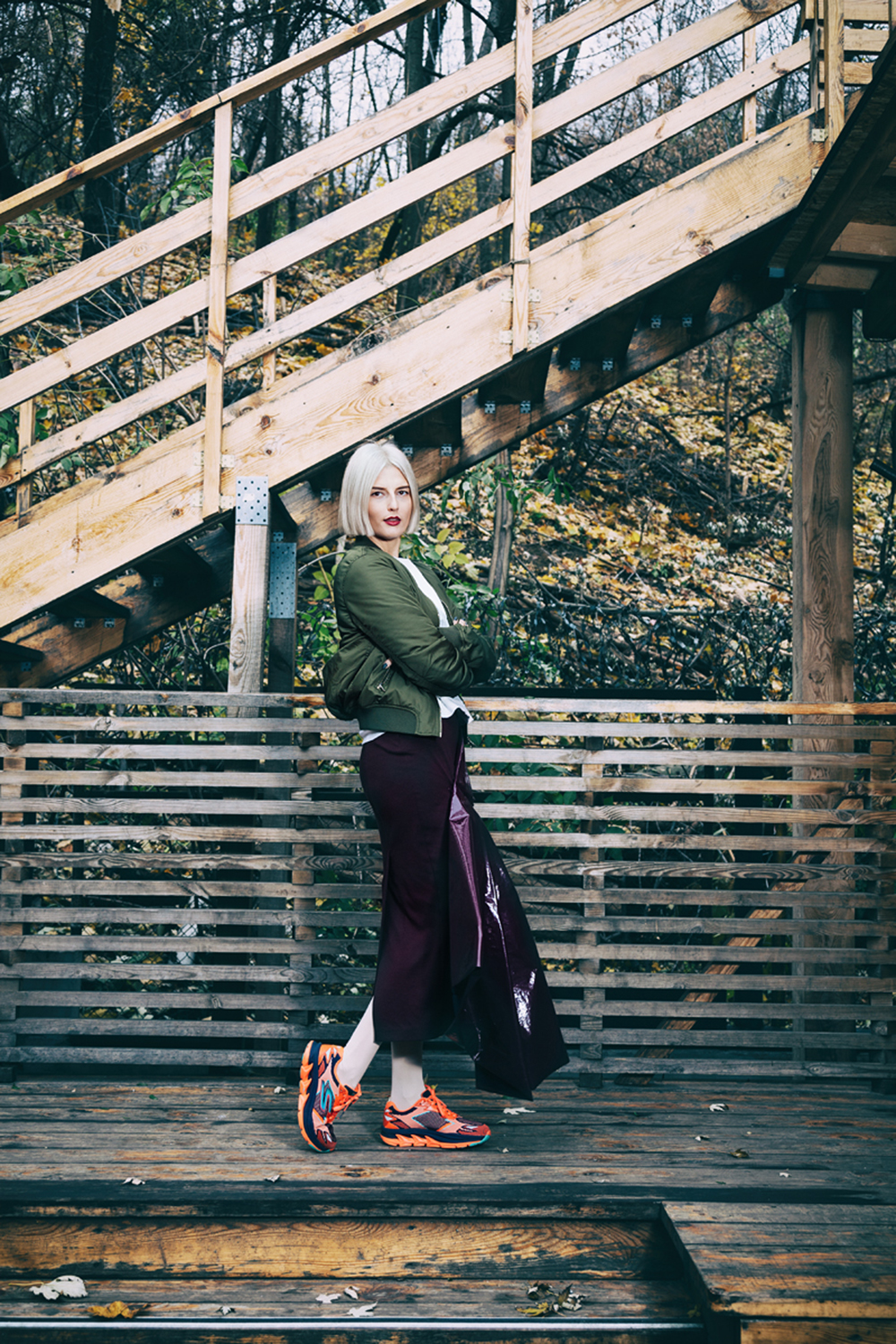 About favorite sneakers:
Run do not particularly like, but the most comfortable shoes in the world – a running shoe
! There is a chance that someday I would have liked to run, but as long as I can remember – a few races for 2-5 km. On the treadmill I ran 10-12 km, but for me personally – it's boring.
Maria Skorenko, MAMASITA
Trainer tverku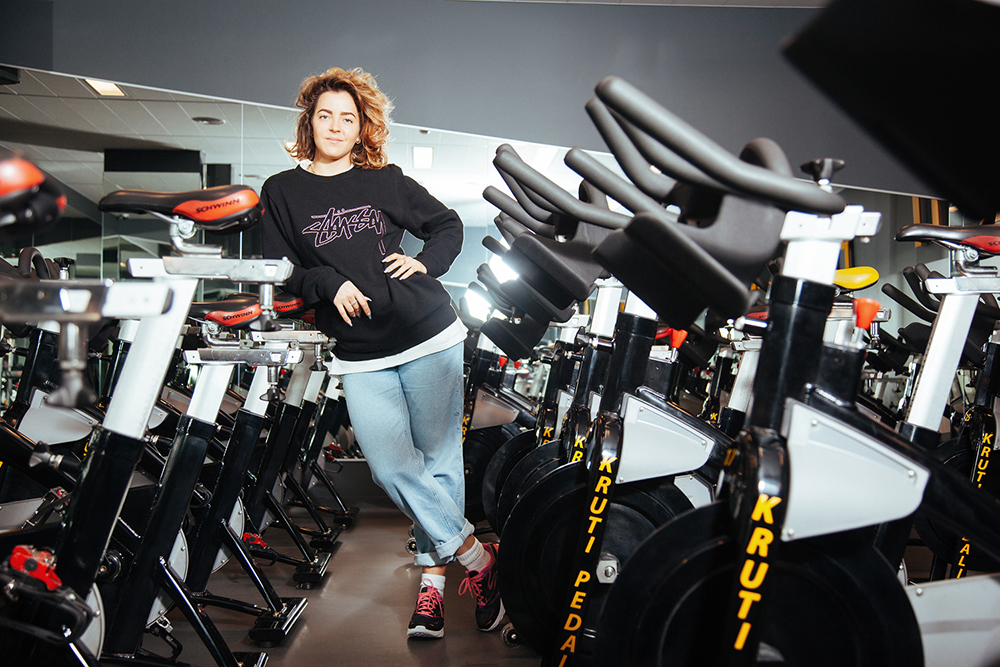 My Playlist for training:
Yo Gotti Ft. Nicki Minaj – Down In The DM
YG feat. DJ Mustard – Left, Right (CDQ)
Tyga – Hookah ft. Young Thug
Future – Lil Haiti Baby
Ty Dolla $ ign – Campaign ft. Future
Skriptonit – Vitamin
TIAAN – DIVE DEEP
Travis Scott – Mamacita ft Rich Homie Quanv
Vic Mensa – There's Alot Going Onde